Joined

Jan 26, 2014
Messages

79
Location (City and/or State)
Hi, this is just a slight concern of mine. All in all my Marginated, Douglas seems to be well and healthy. He's now about 14 months old, and I've had him for around 8 months. I'll show you my husbandry before I get onto it...
He's kept indoors at the minute in a table top enclosure, which I've posted before. This is an older picture, but other than changing decor around occasionally, is pretty much the same now.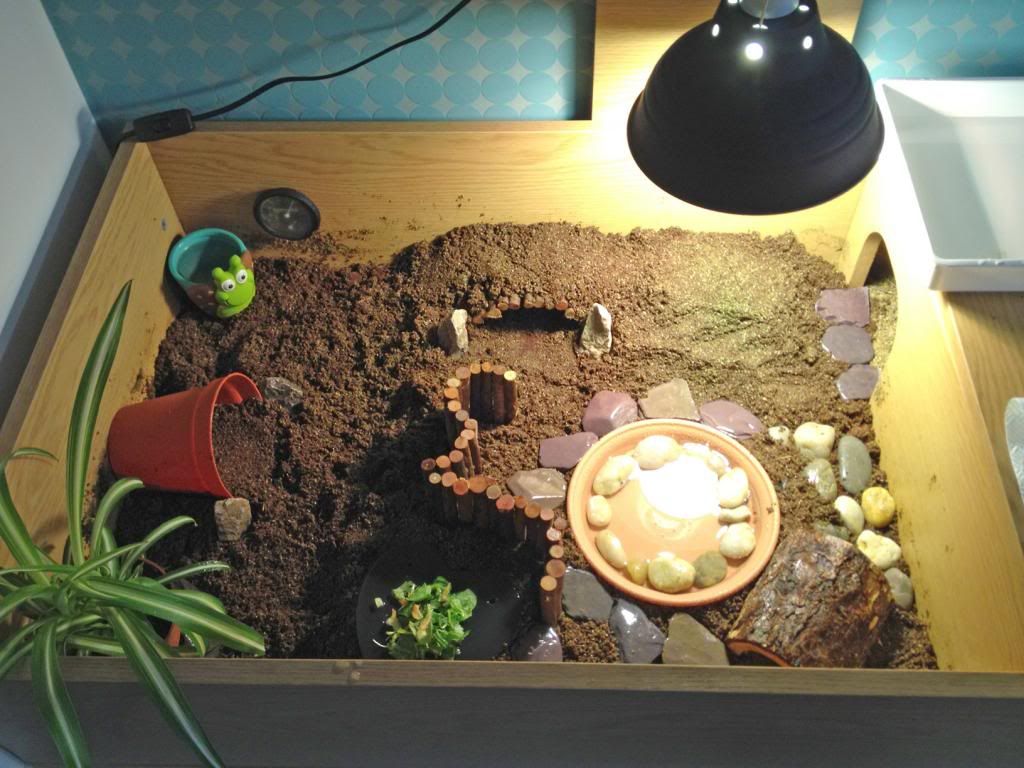 I use an infrared thermometer to check temps - around 95 under the MVB, and 70 in the cooler side and his covered area (right of the image). I change the water daily, and put fresh food down (a rotating mix of lambs lettuce, cress, rocket, pak choi and a dandelion once per week). I've recently grown some ProRep tortoise seed mix, so that is just about getting introduced into his diet. I now soak 3-4 times a week in warm water (this was daily until recently).
At the weekend, if it's warm, I put him into his temporary outdoor enclosure for a few hours, for some natural UV. On a 70 degree sunny day here in the UK I measured 105 degrees in the full sunshine!
For the past few weeks now, I often come home from work around 4pm, and find Douglas asleep in his covered side of the enclosure. There are signs that he has been up and about, and eaten a little. However his MVB light is on a timer, and doesn't come on until 9am, so he can't have been up for more than 6-7 hours.
Is this normal behaviour at his age? He was like this when we first got him, at about 6 months old, but gradually was up for more time as he got older?
Also, yesterday, after spending a few hours outside on Sunday, I came home to find he was still asleep, with no signs that he had been up. So from going to 'bed' around 4pm Sunday, the earliest he will wake when his light comes on this morning is 9am (so around 41 hours just sleeping?)
The other concern is that he hasn't gained much weight in the last 5-6 weeks. He gained a goood 3-5g per week for the first 6 months or so that we had him, put he's been around 105-110 (fluctuating slightly) in the last 4/5 weeks? Is this normal?
Thanks for anyone that offers advice!