Well-Known Member
10 Year Member!
Joined

Mar 18, 2010
Messages

274
Location (City and/or State)
I've built a lot of
outdoor tortoise enclosures
for different tortoise species, but within the enclosures, you also have to build a little shelter for the tortoises to retreat under the hot days and at night. Most of times I simply cut up a plastic planter in half and use it as a simple tortoise shelter like the following photo...
However, there is a small issue with plastic planter as the tortoises would push it around and often turn it upside down. To solve the issue, I just sandwiched the planter between the wall and the rocks to stabilize it.
But been an industrial designer myself, I've done some thinking to try to come up with better shelter ideas. So far, here are two neat shelter ideas I could come up with, and both of them can be built very easily and inexpensively.
Design #1 - Cinder Block Shelter
Suitable Tortoise Species: Hermanns, Greek, Russian, small Sulcata...
Materials:
(1) 8x8x16 Cinder Block
(4) 2x8x16 Cinder Block Cap if shelter is against a wall or
(5) Caps if shelter sits in the middle of the enclosure
Cost: <$5
1. Laying out the blocks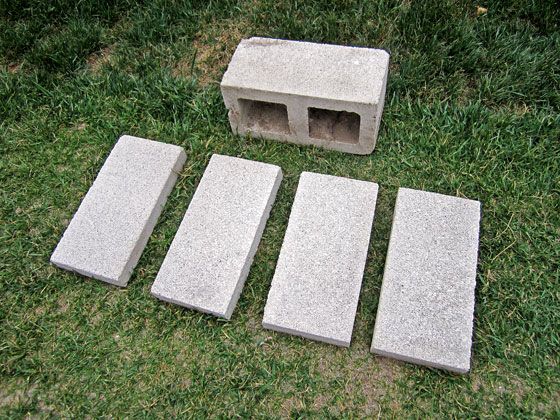 2. Creating a small shelter by placing (2)caps on both sides of the 8x8 block and against a backwall, the hollow holes will be the entrance of the shelter...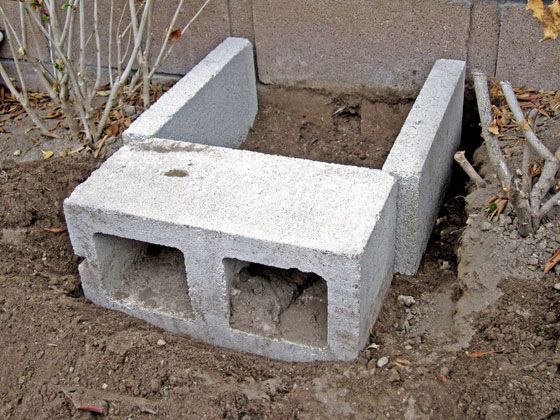 3. Cover the shelter with block caps...
4. Cover the sides of the shelter with dirt to reinforce the shelter stability...and DONE, you can build this shelter in less than 10 minutes...
5. The front cap can be lifted open to reveal the interior...
Here is another one I built for my painted wood turtle, notice the top of shelter is very strong for the tortoises to climb and walk on...
Notes:
1. If you feel the opening is too small, you can use a grinder to cut away the center support beam to make the opening wider.
2. This shelter idea is expandable...Just simply add additional blocks adjacent to the original one, and you can create a small tortoise village if you like...
Design #2 - Storage Container Shelter
Suitable Tortoise Species: Hermanns, Greek, Russian, mid-sized Sulcata...
Materials:
(1) Front-access storage container with Lid
(1) Vinyl strips for entrance covering (optional)
Cost: $8-$12
1. I got this container form Costco a while ago...but anything similar to this will work...Cut the top lid in half for the entrance opening...
2. Turn the container side way and you got yourself a ready-made shelter within a minute...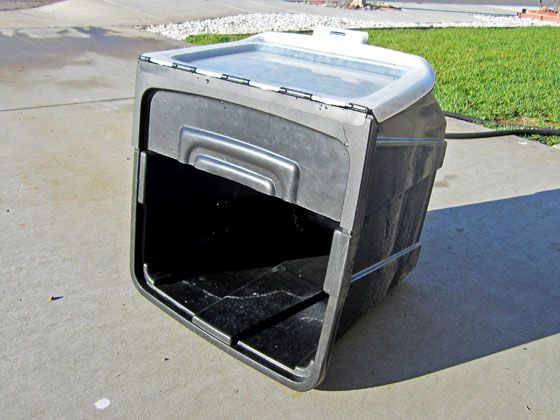 3. Place the container shelter inside your tortoise enclosure and add some bedding materials inside the container...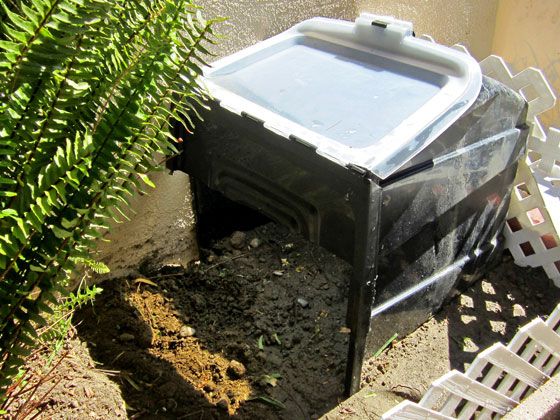 4. Lastly add a vinyl cover in front of the entrance opening to make the shelter weather-proof. The translucent cover can be lifted open to reveal the interior as well...
I know there must a lot more neat and simple shelter ideas out there, so anyone wishes to share their ideas and creations are welcome to post here so we can learn from each other...