Old Timer
TFO Admin
10 Year Member!
Platinum Tortoise Club
Location (City and/or State)
Boy was I ever wrong when I mentioned on another thread that the forum member's radiated tortoise wouldn't get too big. I said the ones at our zoo are only slightly larger than a football, which is true, however, I was just looking around the internet at tortoise pictures and I found this one: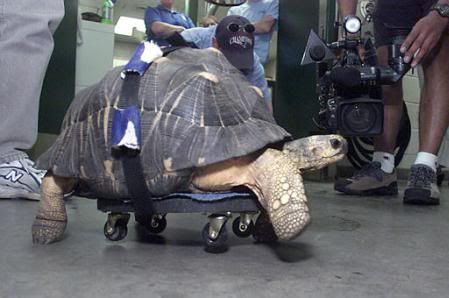 That radiated tortoise is quite a bit bigger than a football. Sorry for the misinformation before.
Here's the story behind the picture:
About a year after his handlers at Roger Williams Park Zoo noticed he had a bum left front leg, the 21-year-old year-old radiated tortoise has finished his rounds of physical therapy and is back munching on plants and scoping out the females in his pen.
The endangered tortoise from the African island of Madagascar had suffered tissue damage and spent a year getting around on a makeshift skateboard that allowed him to exercise without putting too much pressure on the injured limb.
After confirming the injury during tests at Tufts University School of Veterinary Medicine in Grafton, Mass., caretakers cobbled together an oval-shaped roller.
Tipsy showed admiring onlookers Thursday just how well he could scoot around on his mini skateboard. He bounced off walls, crashed into a door, walked over shoes and wiggled between legs.
"He seemed to really enjoy (the therapy) from the beginning," Dr. Janet Martin, director of veterinary services at the zoo. "He really got the hang of it."
Tipsy's ailment was the first such injury veterinarians grappled with in the decades the zoo has housed tortoises.