So, tonight I was at my moms house, with my cousin and her two little ones (2mos and three going on four) making pancakes while Sarah surfed craigslist, because she's been looking for a dog.
So then she says "oh, look, there's a box turtle in wausau"
And of course, I rush right over. And the ad says "free".
The guy said that the turtle would come with a bag of peat bedding, its floating turtle pellets, and its box turtle food pellets
The ad was up for maybe 15 minutes before I saw it. I emailed him my number, told him I could pick it up tonight, and to give me a call. Less than 5 minutes after I pushed send, the phone rang.
Sure, I could pick up the turtle. Did I have my own aquarium, because he was keeping the one he was in, oh, and bring my own box to take it home in.
A half hour later, I was at the guys house to pick up the boxie. He told me He was a REAL picky eater, and wouldn't eat anything that was offered to him, except earth worms.
The poor thing was in a 20 gallon tank, all the bedding was dry, there was NO heat, and NO uvb on it. Just a regular fluorescent tube light with a GE stamp on the bulb. (bit my tongue JUST as I was going to congratulate the guy on having UVB.) Sitting in a tiny dish on top of that bone dry bedding was a mishmash of pellets, and what looked like run of the mill CABBAGE. It was, at one point, wet. But was now a sticky, hard mess. Obviously not new.
I was shocked. He reached in, dug him up, and handed him to me. The turtle itself was cold. I put him in the tupper ware bin I had brought, and right away he starting walking, climbing, was not shy at all.
And its poor beak....one of the worst cases I have ever seen in person. I don't know how he expected it to eat at all.
I think, what I have just rescued is a female eastern box turtle. Her eyes are brown, and her tail is short, and stubby. Her shell has some flaking on it, I'm not sure if it can be seen in the pictures. It doesn't look like rot to me, but if someone knows what it is from, let me know.
I soaked her at my moms house, for about 5 minutes in warm water in front of a space heater, and offered blueberries and mushroom. She wouldn't eat, but a little later, had a bowel movement. It was very wet looking, squishy, but still had a little form to it, and smelled TERRIBLE. I know what healthy poop smells like, and that wasn't it.
I have a red light on her (the spot where she is sitting is close to 80F) and she is on peat, but I moistened it, so that it packs, but no liquid can be squeezed out. I don't know what wattage the bulb is, I got it, and the lamp as a throw in when I bought an exo terra off CL about two weeks ago. They sure came in handy tonight.
If she is a girl, I plan to call her Eglantine. But I am not 100% sure. Her tail looks almost like something nipped the end off of it. Her eyes, say girl, but she's prolly under 5 inches (will measure and weight tomorrow--and clearer pics too I hope) so I suppose it could be a young male...
Here are some pics:
Her over grown beak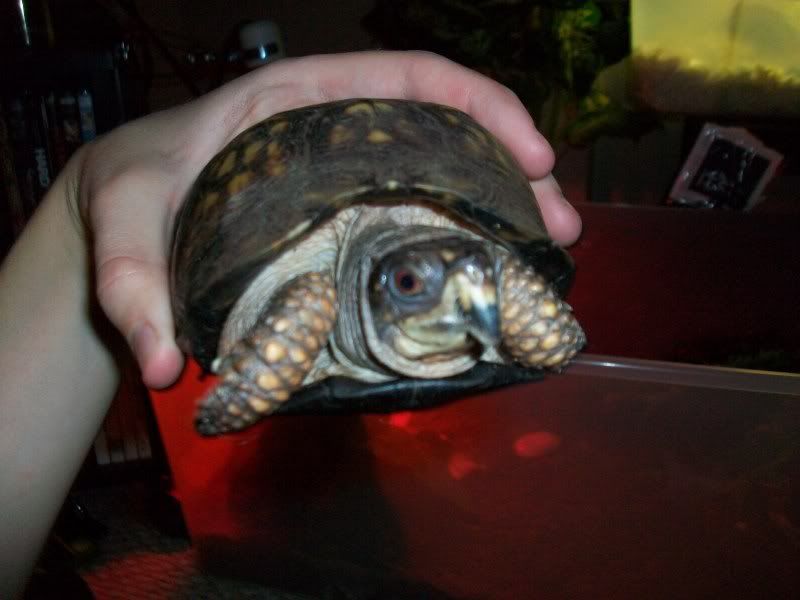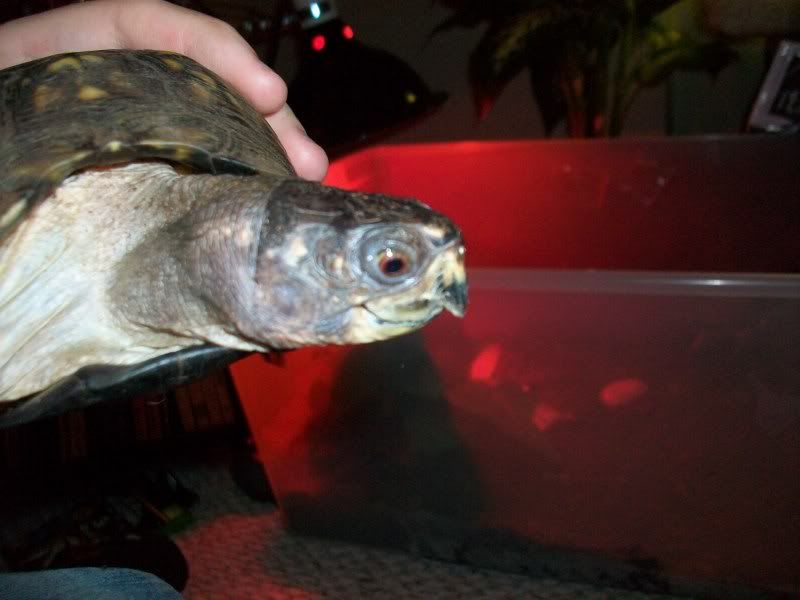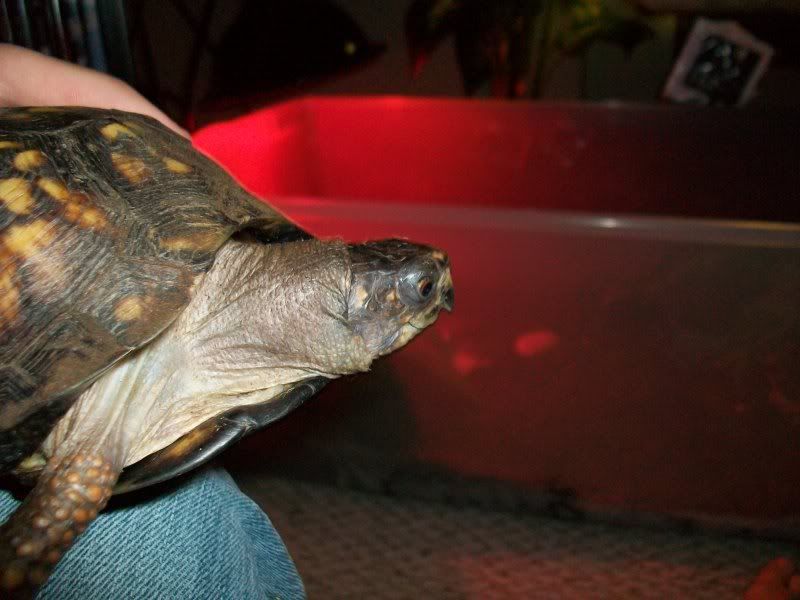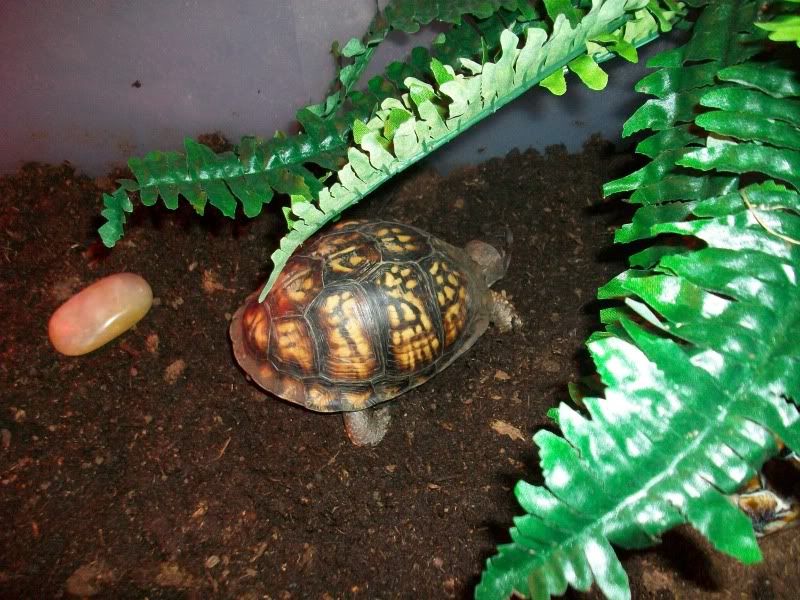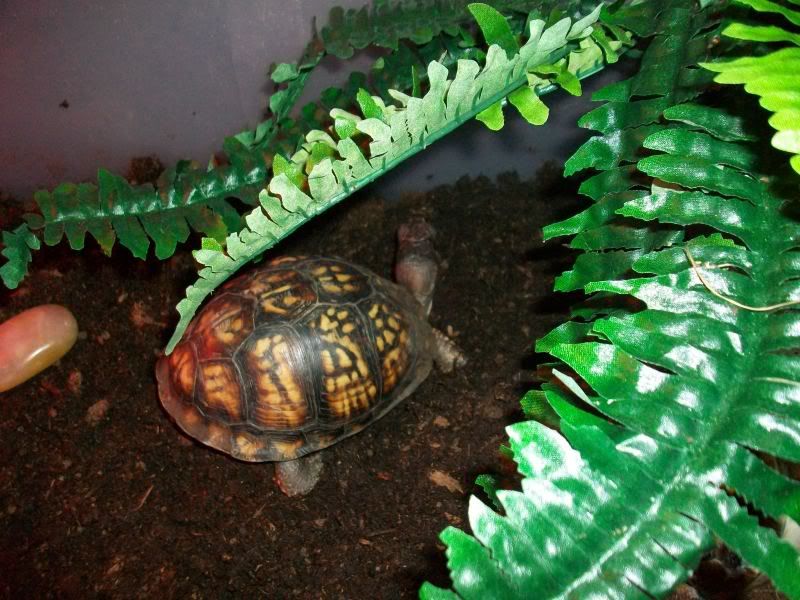 See what I mean about her tail?? And there is definately something wrong with her back feet/legs. See how they are bowed like that? Her nails are also twisty. They look soft to me. Again, I didn't mess with her too much, I figured just the move was stressful enough.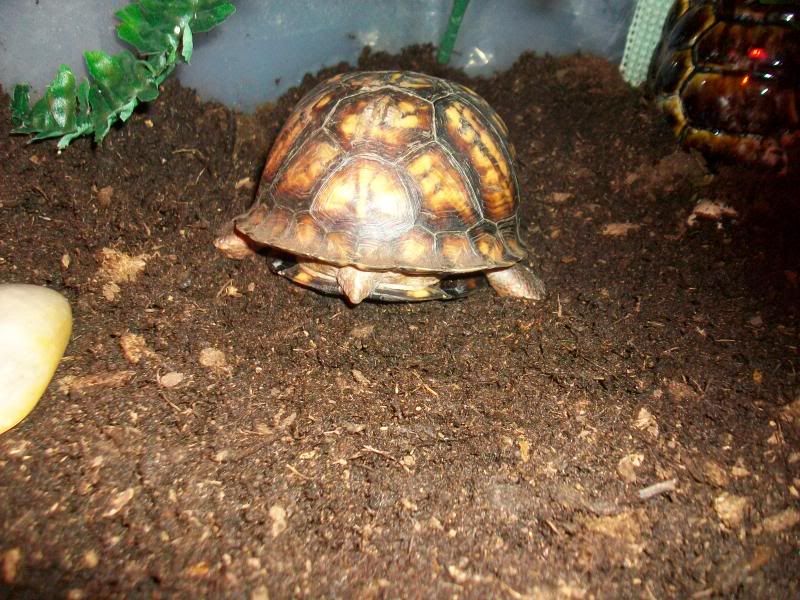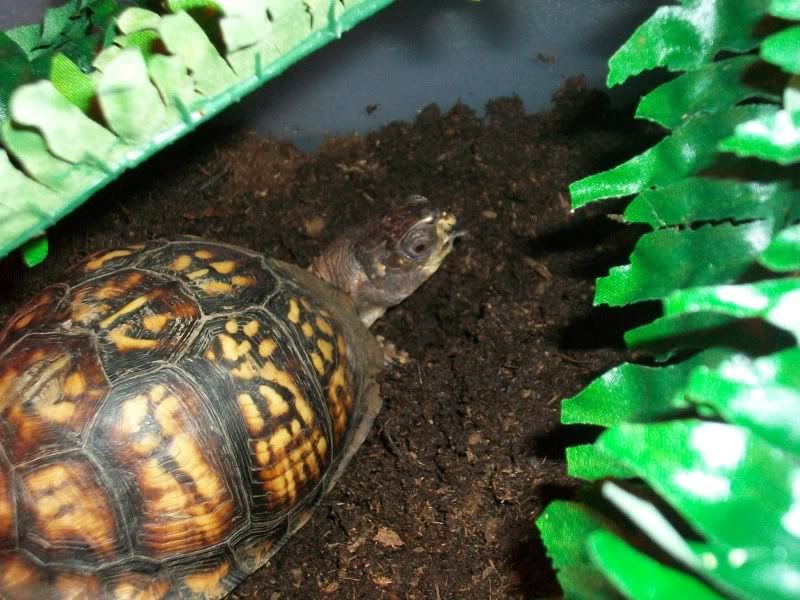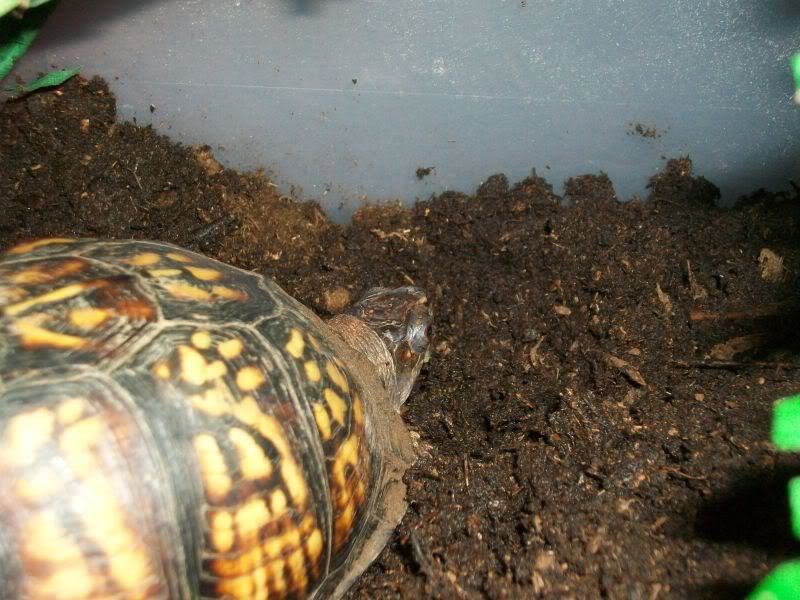 Her temp setup: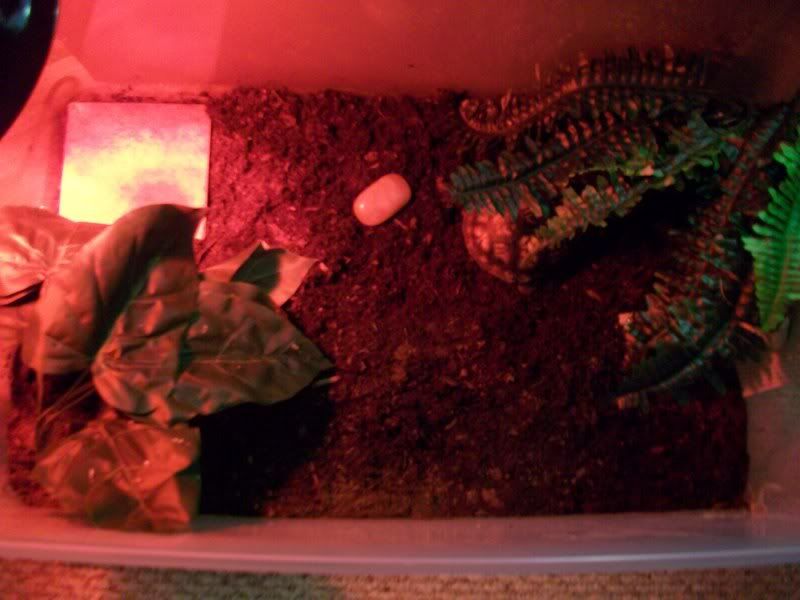 (she's still in that spot, buried her head, and is sleeping, I would surmise.)
Please give info, suggestions, identifications.....I haven't had a boxie for years. And though I might want to, I don't think I can keep her long term. I am getting my new baby from Danny on Tuesday morning, and with school starting this Wednesday, and still working 4 out of 7 days I have VERY full hands.