Well-Known Member
5 Year Member
Joined

Dec 18, 2008
Messages

5,383
Location (City and/or State)
So, I have this bratty little Clownfish. She isn't the typical "Nemo" Percula Clown, she is a Red Saddleback Clownfish, a.k.a. Fire Anemonefish, they are quite a bit rarer and you don't see them in the pet industry often. I got lucky with mine, they had her mislabeled at the fish store as a Damsel and I bought her for $3.99, which is considerably less than what they would normally cost.
A cool thing about Clowns is that they are all born male. If you get two fry out a of a tank of babies and raise them together, the more dominant will turn female and you will have a pair. If you have a group, and the female dies, the most dominant male will turn female. Any clown kept alone for a period of time will be female eventually. Once they become female, they cannot go back to being male.
Anyway, she is very, VERY territorial. She HATES my hands being in the tank, and she bites!!!
Well, the other day my furnace wasn't working (fixed now!) so I had turned the heater up in the tank. I stuck the very tip of my finger in the water, and she saw it. She shot up from the bottom of the tank towards my finger. I jerked my arm back because I saw her coming, and she KEPT COMING, followed my movement, leaped completely out of the water at bullet speed and SPLAT!!! hit the hardwood floor.
You know the old Wiley Coyote cartoons, where his jaw would drop open and his eyes would get all big? Yeah, that was totally me. I screamed and grabbed her and threw her back in the tank. She shook herself a couple of times, swam up to the front glass and flared her gills at me. Little witch, lol.
(Please don't judge my tank harshly. It is not a display tank, it is a grow out tank and I am seeding some base rock in it, because I don't believe in using wild collected live rock. I will have a display tank in a couple of months.)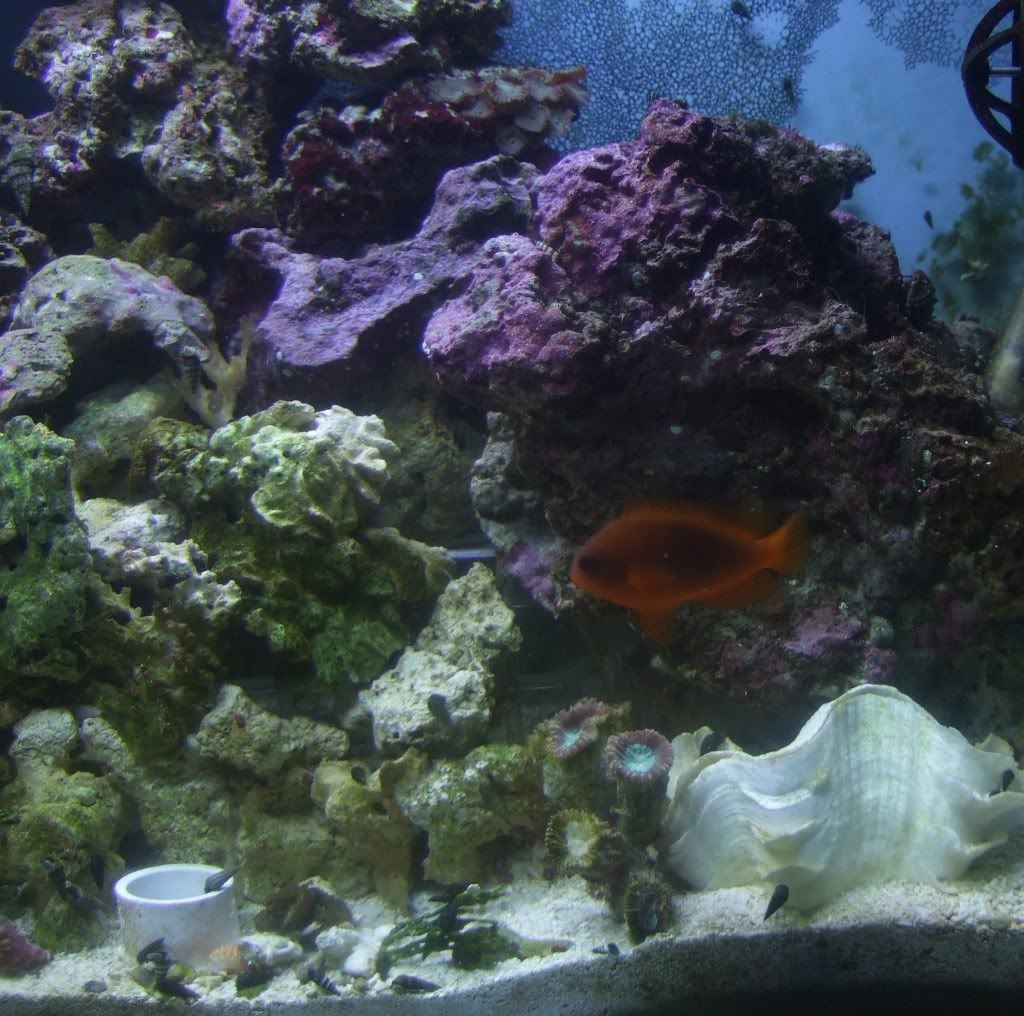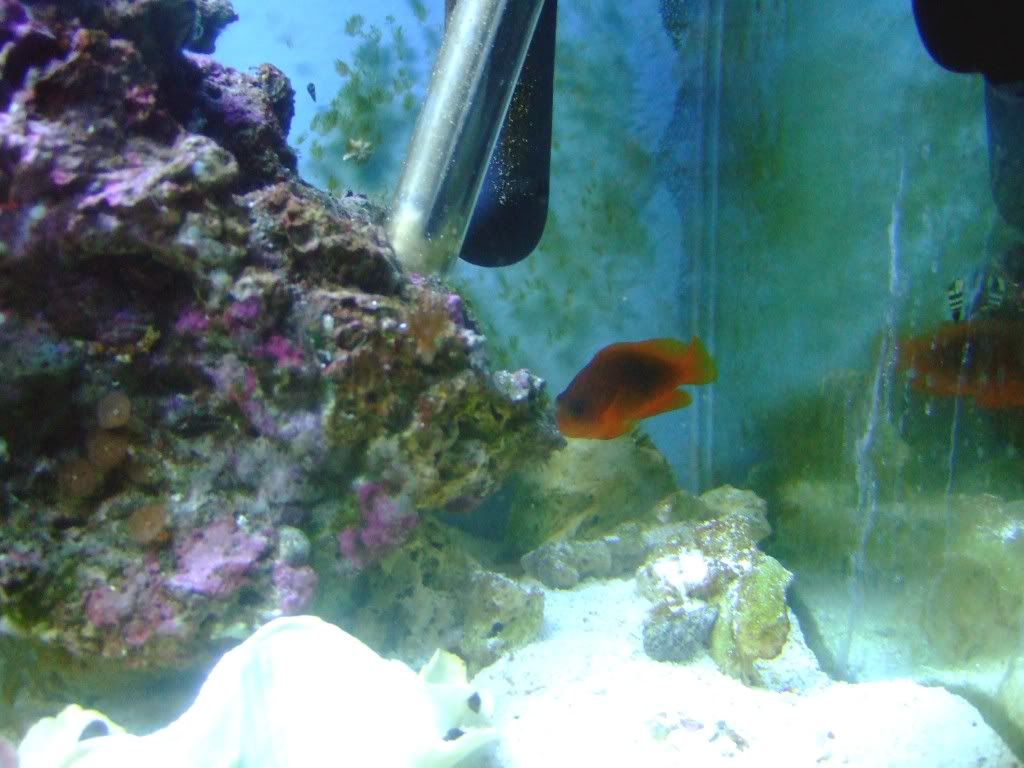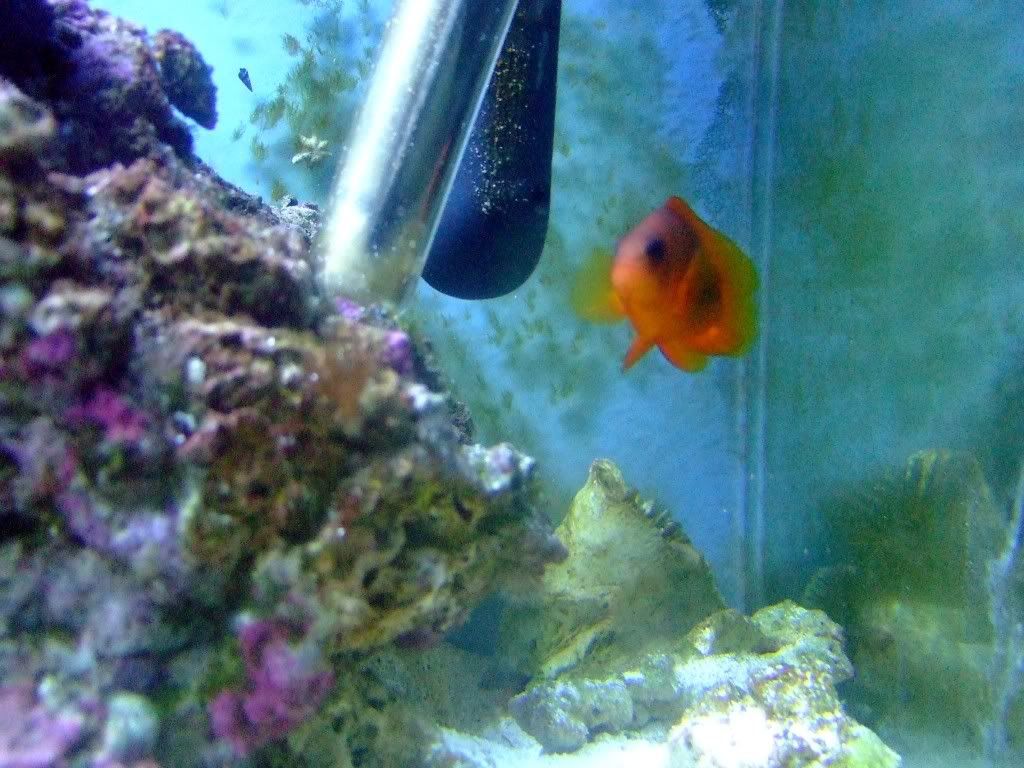 The whole thing. The smaller tank on the left is an in-tank refugium. It is a 2.5 gallon Minibow aquarium with multiple holes drilled in it and a 66GPH pump pulling water into it from the main aquarium. It houses my Teddy Bear crab.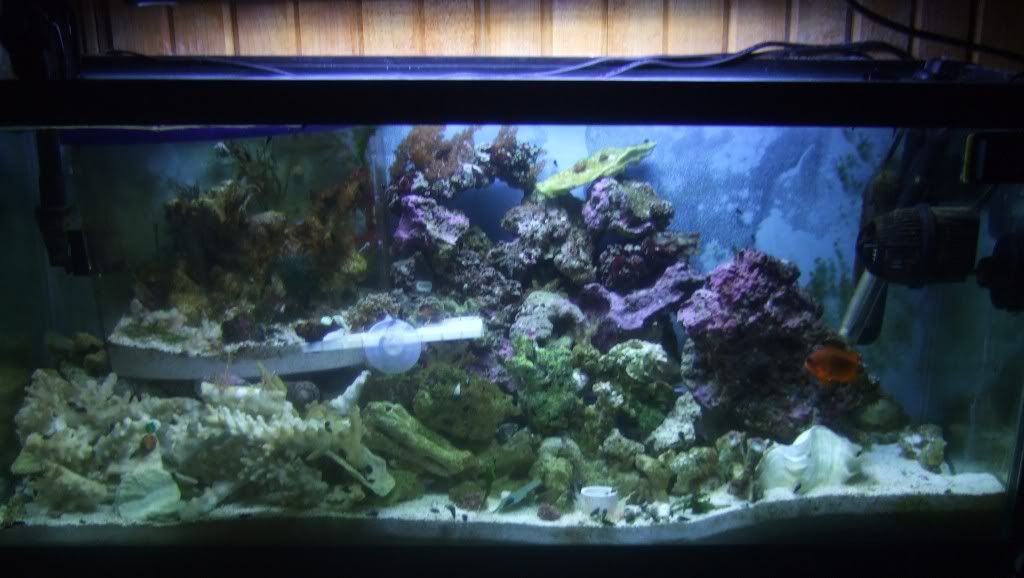 Here is what the Teddy Bear looks like. I HAD to have it, but he eats corals, so that is why he is isolated.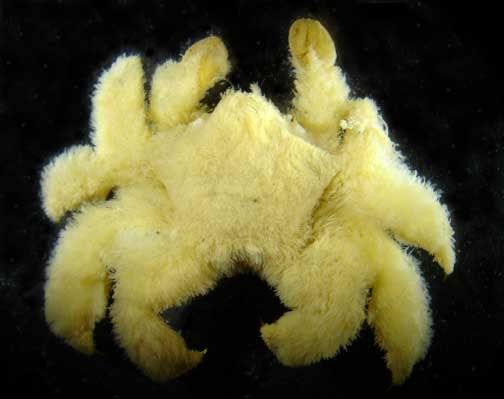 Some Colt corals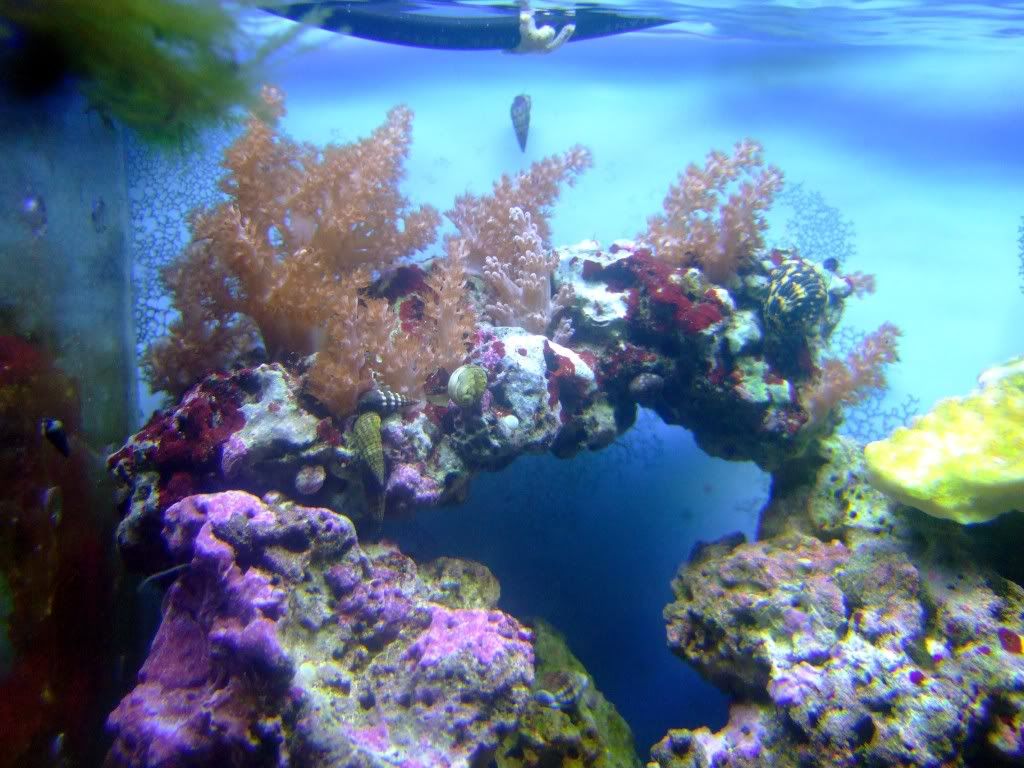 Texas Trash palys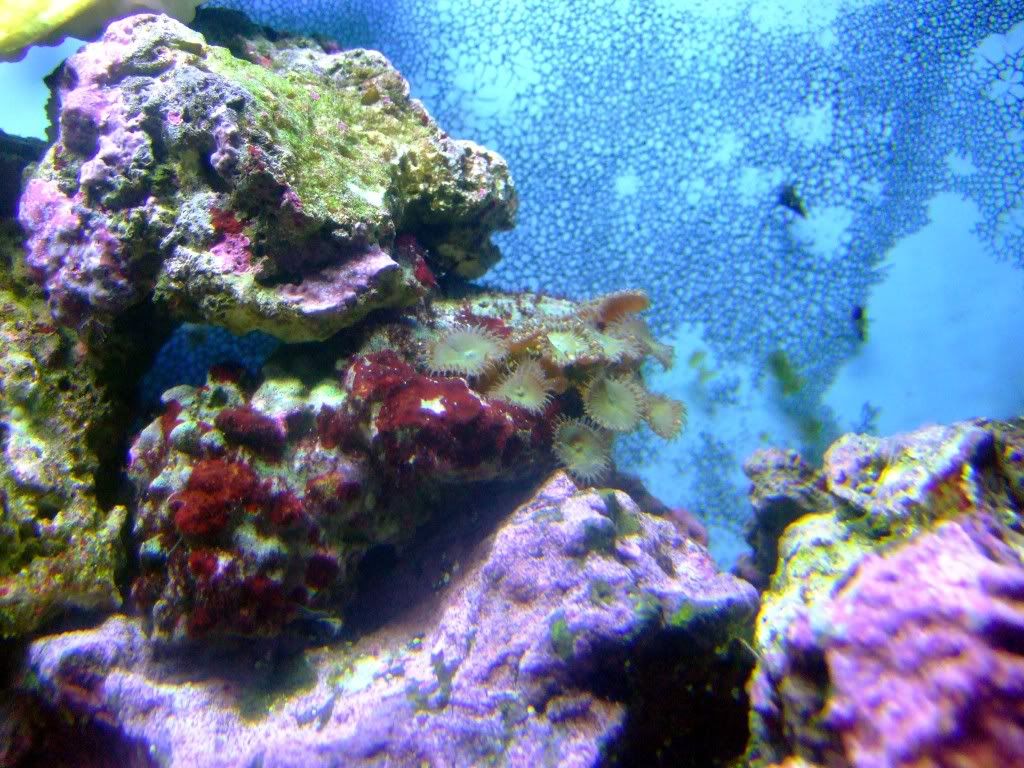 Ricordia mushroom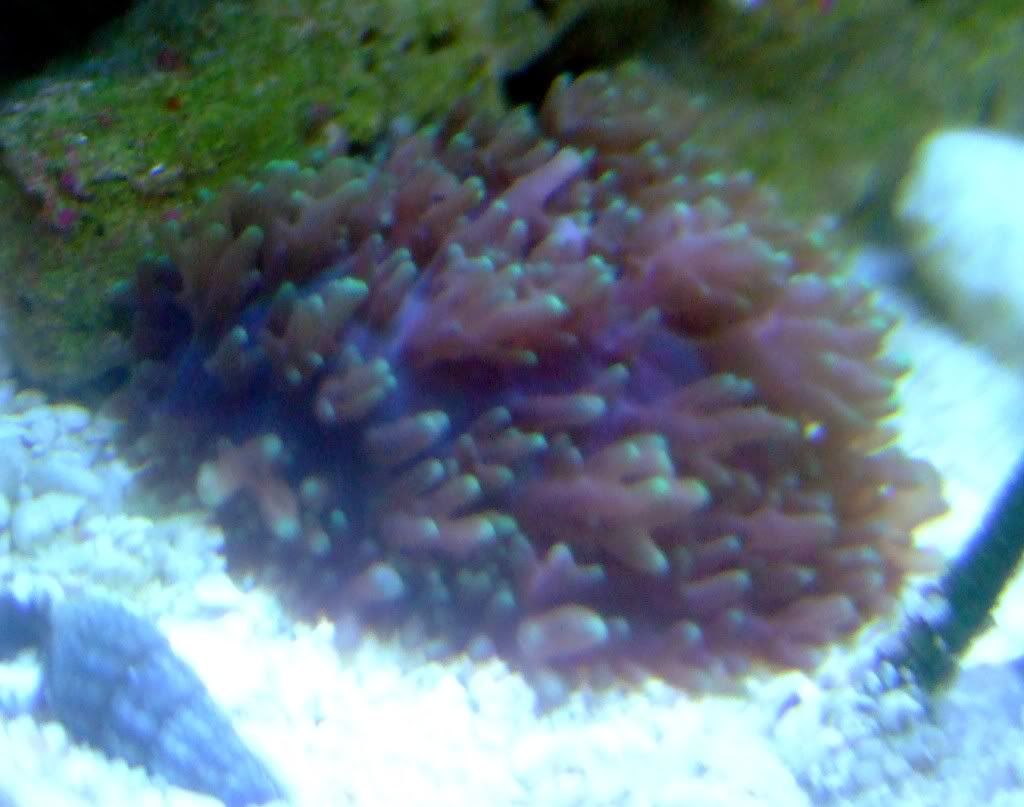 Frogspawn coral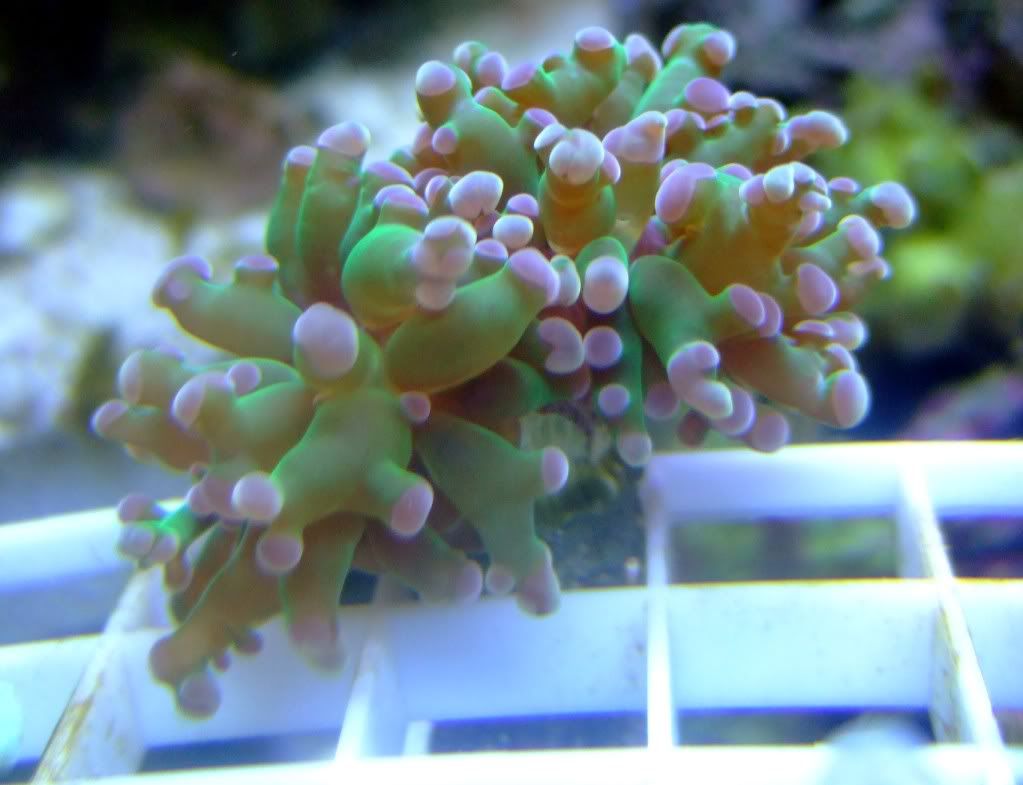 I have a few more corals that I didn't take pics of, some trumpets and candy canes and gorgonians, etc. There is nothing as amazing as a saltwater aquarium. It is impossible to know everything that lives in the rock. It is amazing to put food in and watch tiny starfish arms come out and sway in the current, or the nassarius snails pop up from the substrate in seconds and begin zooming around. The variety of life is just amazing. I wish I would have taken some pics of some of my macroalgaes, but the whole thing is just completely cool.