Joined

Jan 30, 2011
Messages

22
Location (City and/or State)
Hello all,
My name is Eric, I recently purchased a Russian tortoise. I'm simply looking for ways to improve what I already have.
74QT under bed storage
60 Eco earth/40 sand substrate mixture
Solar Glo 160W UVB/Heat source
A single hiding space
The humidity is about 50
The heat is currently 96.7 and stable
I have not put a water dish in his enclosure yet, simply because I think it takes away from the room he has. I read conflicting info, it would seem soaking every other day and his food would provide more than enough hydration but please correct me if I'm wrong.
I had taken strong warning from various websites that I should obtain a captive bred Russian only, however I have been searching for about a month now and it has become VERY difficult. I used Kingsnake markets several times, most of the dealers there sell "WC but doing well in captivity" type deals or they didn't respond to my emails when I asked about captive breds. I did find a single person that claimed captive bred but would not ship to me until Spring(I agree, 15 degree weather here in Pennsylvania) and the Russian was also $240, it wasn't so much the money but the wait as I've been wanting to do this since August.
Anyway, the Russian I purchased was after several trips to 6 different pet shops in my area. Two being independent stores, the other 4 were Petsmarts and Petcos. I examined every Russian to the best of my knowledge(eyes won't open, mucus eyes, odd breathing, shell rot, soup can weight), asked questions but overall I received soso info from all the stores, none knew whether they were WC or CB.
I finally ended up going back to a Petco I've been going to for years for my ferret supplies that's had the same guy take care of the reptile for years and he always talks to them playfully and overall treats them well.
Overall the tortoises were in fair condition(compared to the other stores), one had an eye problem, 3 felt under weight(though they were simply smaller tortoises but just didn't feel right), one more simply wasn't responsive but there was one that I noticed the first time I went to the store. He's about as heavy as a Campbells chicken and dumpling can, clear eyes, no caked poop on his butt, and he was always walking and digging when I was there. The employee said the tortoise I chose had been there almost a year(ALMOST A YEAR?!), I thought that was strange as there's nothing wrong visually wrong with him other than his claws seem too long, he's just a good bit bigger than all the other tortoises so perhaps people buy smaller tortoises for the cute factor. Overall he's in good condition, his shell does seem to have EVER SO SLIGHT pyramid, but then again I've never had a tortoise so it could be natural.
I plan to take him to the vet this coming week, are there any things I should ask for in particular? How exactly do I do a stool sample for a tortoise? He's all ready pooped when I soaked him today but I threw it out not thinking, is the poop in the water still viable for the lab?
Some pics of him, I don't want to pick him up and disturb him anymore today so his poses are his own, haha.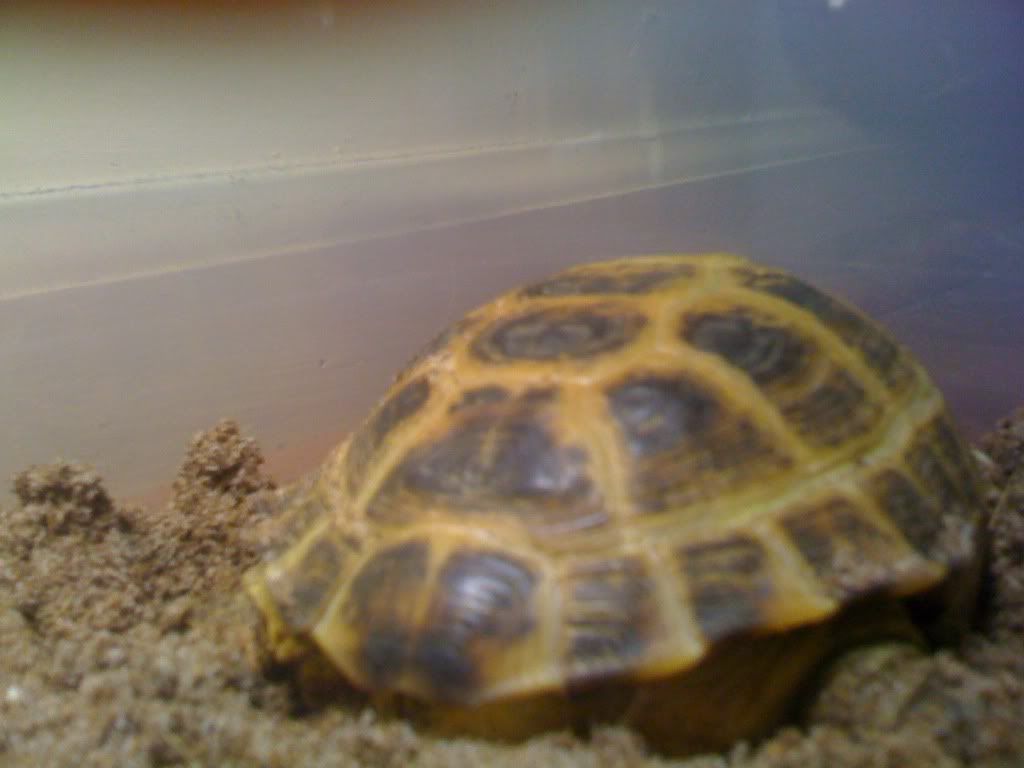 I look forward to your responses! I'll take some much better pictures with a real camera in a few weeks.