Joined

May 12, 2015
Messages

8
Location (City and/or State)
Hey there folks! You can call me Zim; i've been a long(ish) time reader of the forums; but never have posted. I've wanted tortoises for a few years; but have been putting it off because although I've spent the last few years learning about them online/through books/videos/ect, in my mind i was never quite ready. (I never even saw a tort outside of a petshop until tonight, let alone cared for one...)
But; i ended up getting these three from a family member. They were apparently rescues that her daughter got, brought with her when she moved back into her moms house, then left there when she moved out again to collage. So; please do not blame me for how they look. I've had them a total of seven or eight hours (depending on how long it takes for me to finish typing!).
The family member i got them from didn't feed them pelleted food; but instead plants like:
Kale, dandelions, carrot tops, spring mix, 'Wild green mix' (basically a spring mix we get in stores around here that has much darker leafy greens. Nothing brighter than kale-shade-green. No spinach, even has some dandelion in it sometimes.), shredded carrots, things like that.
I'm not sure if it was organic or not; but we live in a pretty rural area and it's not hard to find organic goods here.
I'll be continuing with the feeding leafy-greens and limiting the carrots and other sugary veggies/fruit. (Apparently they have a history of starving themselves if they have anything like strawberries!)
But here are the three of them; i know it's bad to have them all together; but they've been together the entire time my relatives had them and seem okay; and this has much more space then the tank i got them in (12 inches wide by 36 inches long, the tub they're in now is 18 wide and 40 long). Tomorrow morning i'll be trying to find a way to heat the tank they came in and the extra tank; so at least they can't risk fighting. Luckily they don't seem to have any bite marks (that i can see) on them.
(I know; silly speech bubbles. It's an easy way to introduce them to my nieces through the world wide web, and making them a bit more human-ish helps introduce them to reptiles without them being so alien, i guess... I put them together over there so it would be easier to get a clear up-close photo showing their differences.)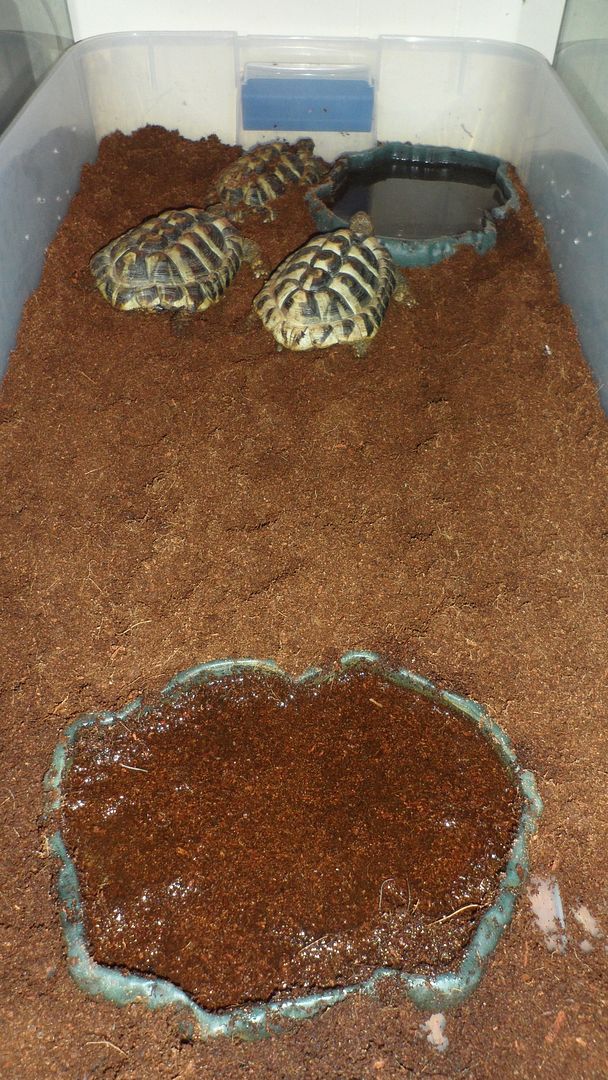 (This shows their current set up; i used Echo Earth but i think i might need to use the repti-carpet that they came with for Tootsie. She seems to have a mobility issue...)
The following is Tootsie, i'd love some clarifying on if they are just horribly pyramided Russian torts or not.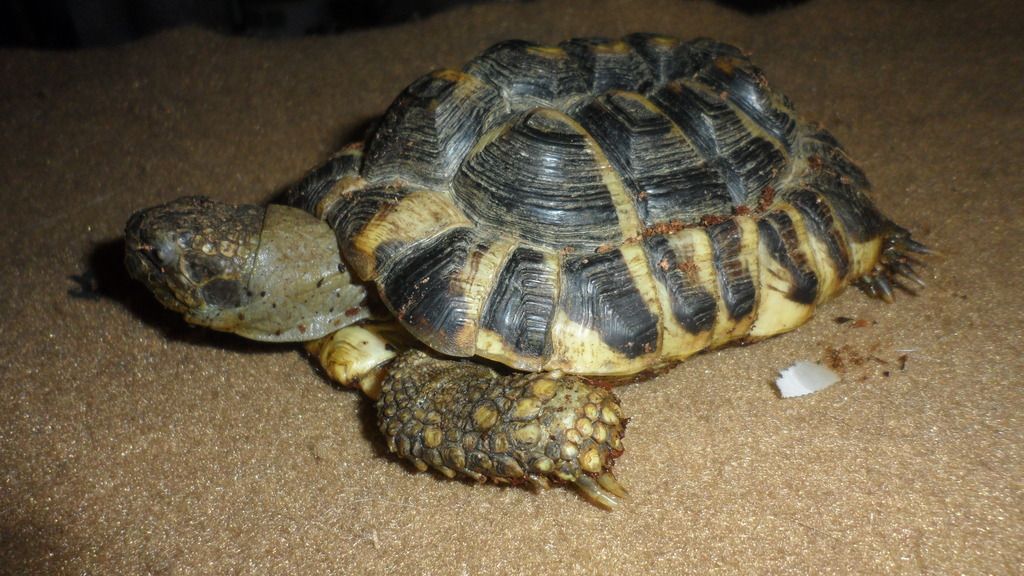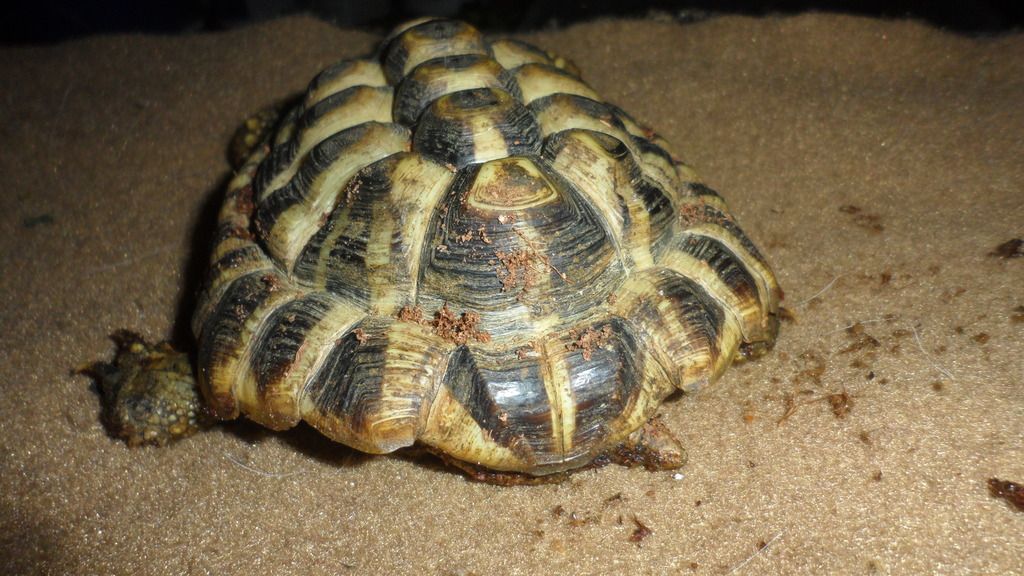 The last is a close up of her front foot; because he spikes seem pretty long. I was half terrified when i first saw them that they were just young sulcatas! (It was dark! And i recently saw one in a petshop saying it would only grow to be 12 inches... Yet another reason why i had been putting off getting one. You never know what petshops say to sell them, as i'm sure you guys know!)
As for Tootsie; i let them run around on the floor for a bit, (I had the doors closed; it's a empty room other than a few peices of furnature and heaters. Thank goodness for only just moving...) while i got everything set up for them and tried to find a way to have their heater/light over the tub. I normally do this when i get a brand new animal that i'm not sure about anyways; just so i can watch them moving about and see if there's any big issue.
Tilly lapped the room a few times and chased the cat allot. Her only issue with walking is that she seems to be running; but at least she wasn't having any 'accidents', and wasn't trying to bite or ram him. Didn't have her mouth open at all. She just seemed to enjoy chasing him; but i don't know how tortoises act. So; i'm not sure what she was doing.
Trent seemed to hang out around the furniture allot. (Under the chairs, around the little table, near the heater.) He didn't seem to have any issue walking; it just took him a few minuets to learn how to walk on something that wasn't repti-carpet. After that he was zooming around; although not nearly as fast as Tilly.
Tootsie on the other hand doesn't seem to be able to move her hind legs very well, which worries me. The entire time she was on the floor she moved probably a foot, at most. She seems to try and move; her front legs drag her around (she's pretty good at spinning), but her hind legs don't seem to come out of her shell as much as they should, and only seem to push her forward when on the repti-carpet, but not as much as they should. The 'dirt' that's in the tub is giving her a bit of trouble; but she's moving around a few inches a minnuet.
Her hind legs seem very stiff; they don't bend like Tilly and Trents do. They remind me of a dog who's broken a leg; and it healed straight when the vet didn't add a bend into it. She can wiggle them but can't really
walk
... I can try getting a video later; if it would help.
They also have the two shallow water pools with warm water, although by now they've turned one of them into a mud pit.
I think that's enough info for now; at least. I don't want to wright an entire book...
(And as for the name; my mother named them tonight and it stuck...)
Edited because i messed up the pictures